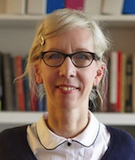 Anne Meylan est professeur boursier à l'Université de Bâle. Spécialiste des questions portant sur l'éthique de la croyance, l'irrationalité cognitive et la justification épistémique, elle a publié de nombreux articles sur ces sujets ainsi que deux livres : Foundations of an Ethics of Belief (de Gruyter, 2013) et Qu'est-ce que la justification ? (à paraître aux éditions Vrin).
Publications récentes concernant l'épistémologie
Livres
Qu'est-ce que la justification ? Paris, Vrin, 2015.
Foundations of an ethics of belief, Berlin, De Gruyter, 2013.
Articles avec comité de lecture (peer-reviewed)
"The Legitimacy of Intellectual Praise and Blame", The Journal of Philosophical Research, 2015.
"The Normativity of Ordinary Justification", Knowledge First Approaches to Epistemology and Mind, Carter A., Gordon E., Jarvis B. (eds.), Oxford, Oxford University Press, 2015.
"Epistemic Emotions: a Natural Kind?", in Michaelian K. and Arango-Munoz S. (eds.), "Epistemic Emotions", Philosophical Inquiries, 2:1, 2014.
"The Value Problem of Knowledge: an Axiological Diagnosis of the Credit Solution", Res Philosophica, 90:2, 2013.
Articles (dans des volumes collectifs)
"

Epistemic Virtue and the Value of Knowledge", in Routledge Handbook of Virtue Epistemology, Battaly H. (ed.), New York, Routledge, à paraître.
"Virtue Epistemology and the Stativity of Knowledge", in Virtue Epistemology, Kelp Ch. (ed.), Cambridge, Cambridge University Press.
« La justification des croyances testimoniales », in Epistémologie et logique, Chevalier J.-M. et Gauthier B. (eds.), Paris, Ithaque, 2014.
« Le contrôle des croyances », in Jaffro L. (ed.), Croit-on comme on veut ? La controverse classique sur le rôle de la volonté dans l'assentiment, Paris, Vrin, 2013.