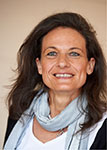 Béatrice Couairon is attached to the Chair of the Economics of Institutions, Innovation and Growth since 2016. Cofounder of the "Campus of innovation for high schools", she is in charge of the actions carried out in partnership with Education national.
She is a professor in the social sciences and professor of higher education. She teaches economics and social sciences in khâgne BL.
Since 2012, Béatrice Couairon has been leading the Business Schools Program of the Institut de l'entreprise. These interrelationships between the world of teaching and research and the business world revolve around a summer university The Entretiens Teachants-Entreprises and a site of educational resources, Melchior.
Beatrice Couairon is a Knight in the Order of Academic Palms.