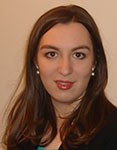 Céline Antonin has been working as a senior researcher at the French Economic Observatory (OFCE, Sciences Po) since 2009. She also teaches microeconomics, macroeconomics and digital economy at Sciences Po.
Céline graduated from the ENSAE, Sciences Po Paris and the École normale supérieure (MSc. Economic Analysis and Policy). She also holds a PhD in economics from the Paris School of Economics. Her research focuses on savings and wealth, capital taxation, economic policy in the euro area and oil market issues.
She is attached to the Chair of the Economics of Institutions, Innovation and Growth as part of her work on capital taxation and on the macro- and microeconomic impact of digital transformation on the labor market.