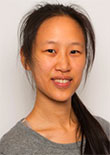 Connie Lee is currently a PhD Candidate at Mines Paristech studying innovation issues with a focus on trade and environmental policies. She is particularly interested in the role of firm heterogeneity in driving the link between government policies and firm innovation.
Prior, she graduated from her undergraduate studies with a Bachelors in Financial Engineering at Columbia University. Then she did a masters at Paris School of Economics in APE and at École polytechnique in QEF (now renamed Masters in Economics).
She has been attached to the chair since early 2017.