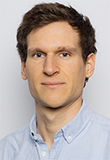 Cyril Verluise has been attached to the Chair of Economics of Institutions, Innovation and Growth since 2016.
He is involved as a Research Assistant of Professor Aghion. He mainly works on the use of tax data in the research carried out by the Chair on the relationship between Tax and Innovation.
After two years of Preparatory Class at Lycée Henri-IV, he joined HEC Paris. He was invested there in favor of high school students in Priority Zones within the Association Fleur de Bitume. He is currently pursuing a Master of Economics at the Paris School of Economics where he studies the implications of the heterogeneity of agents on the conduct of cycles and the pursuit of monetary policy.
Cyril is also passionate about travel and mountain. In 2014, he undertakes the crossing of the Andes (Ushuaia-La Paz) on foot and by bicycle.