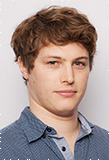 Simon Bunel has been attached to the Chair since 2016 as Prof. Aghion's research assistant. He is particularly interested in the link between fiscal policy and innovation in France.
Following a preparatory class at the lycée Saint-Louis, he joined the École polytechnique in 2012. During his studies, he specialized in economics and was particularly interested in the economics of innovation, as evidenced by his to study the innovation ecosystem in Quebec during the summer of 2014 and then in 2015 the impact of the digital revolution in France. He then pursued his studies at the ENSAE, in parallel with the Master APE of the Paris School of Economics in 2015-2016.
He's an administrator of the INSEE since September 2017.