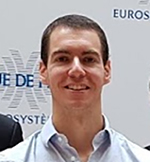 Timothée Gigout joined the chair of economics in June 2018 as a PhD candidate working on firm dynamics in open economies.
Timothée follows a research agenda leveraging the use of micro-data to study international economics topics. He currently works on better understanding the effect on innovation of interactions between market power and globalization while also studying the dynamics of international trade networks in the presence of frictions.
Previously, Timothée had spent three years as a PhD researcher at the Banque de France in the International Monetary Relations unit. He defended his dissertation in October 2019 and then did a postdoc at the CEPII focusing on the effects of the current trade wars. He is now back at the Farhi Innov Lab as a postdoc.