ChADoC : Chercheurs Associés et Doctorants du Collège de France
This association brings together associated Maîtres de conférences (university lecturers), ATER (research and teaching assistants), PhD candidates and postdoctoral researchers of the Collège de France. The association currently boasts 200 members.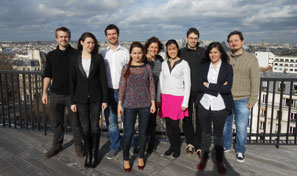 ChADoCs Committee for 2013-2014
Two Objectives
On the one hand, this organization promotes friendly discussion between researchers through cultural and leisure events. On the other hand, it helps support them in scientific projects which go beyond their research chairs and the laboratories with which they are associated.
Science Festival
One of the ChADoC association's crowning moments is the science festival which takes place in October every year.
Young researchers organize three days of scientific events for school-age children. Visitors are given the chance to carry out experiments themselves.
Young researchers also help increase awareness of their discipline by showing "research in the making".