The College de France International Committee on Scientific and Strategic Orientation
The International Committee on Scientific and Strategic Orientation (COSS) was created by the Collège de France in 2003. The COSS consists of 11 leading scholars and scientists from abroad, chosen by the Assembly of the Professors which also appoints the Chairman and Vice-chairman of the Committee. The Secretary is appointed by the members of the COSS.
The role of the COSS is to "analyse the Collège de France's scientific and strategic orientations and the conditions for fulfilling its missions, so that it can make recommendations on how these might evolve or be enhanced. The COSS also examines the coherence of the institution's strategy, the significance and exploitation of the multidisciplinarity of its Chairs, its international policy, the adequacy of its research resources in relation to its objectives, and the optimisation of its administrative structures. The COSS is not expected to individually examine the scientific activities of each Chair as these are evaluated by outside experts."

The members of the COSS are appointed for a period of four years, and half of the Committee is renewed every four years.
COSS Members - 2017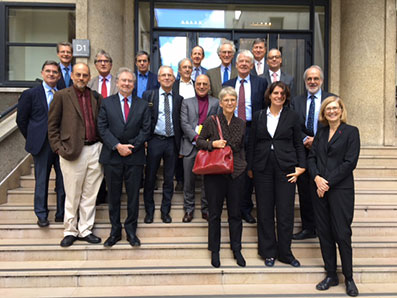 John Baines, Professor Emeritus, Egyptology University of Oxford
Jens Beckert, Managing Director Max Planck Institute for the Study of Societies (MPIfG), Koln
Yve Alain Bois, Professor School of Historical Studies Art History IAS, Princeton
George Brooke, Professor of Biblical Criticism and Exegesis Emeritus University of Manchester
Nicola Margot Courtright, Professor of the History of Art, Architectural Studies, Amherst College
Luiz Davidovich, Professor of Physics Universidade Federal do Rio de Janeiro
William Hanks, Professor of Linguistic Anthropology Berkeley University
Ann Jefferson, Emeritus Professor of French and Emeritus Fellow at New College, Oxford University
Edward Lee, Robert S. Pepper Distinguished Professor University of California at Berkeley, EECS Department
Helene Rey, Professor of Economics London Business School
Wolf Singer, Senior Fellow at the Ernst Strüngmann Institute (ESI) for Neuroscience in Cooperation with Max Planck Society, Frankfurt am Main