Marie Manceau, lauréate 2020 du prix Richard Lounsbery
The Richard Lounsbery Prize, awarded jointly by the French Académie des sciences and the American National Academy of Sciences (NAS) is, in 2020, honoring Marie Manceau from Collège de France, for the outstanding research she is carrying in the field of evolutionary developmental biology unraveling pattern formation and evolution in birds.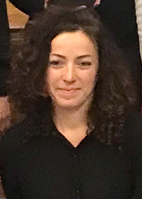 The Richard Lounsbery Award is a $75,000 prize given in alternate years to young (no older than 45) French and American scientists to recognize extraordinary scientific achievement in biology and medicine. It is administered in alternate years by the National Academy of Sciences and the French Académie des sciences. The Richard Lounsbery Award was established by Vera Lounsbery in honor of her husband, Richard Lounsbery, and is supported by the Richard Lounsbery Foundation.
Académie des sciences