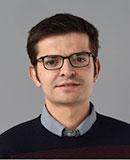 Clément Malgouyres is attached to the Chair of the Economics of Institutions, Innovation and Growth since 2017.
He works on the interactions between structural reforms and monetary policy by mobilizing administrative data on the links between banks and companies.
Clément Malgouyres is an economist and researcher in the Microeconomic and Structural Studies Division of the Banque de France. His previous empirical work has examined the effects of globalization on the labor market, the evaluation of tax incentive policies based on administrative data, and the estimation of neighborhood effects. His work has been published in several peer-reviewed journals such as Economic Review, Journal of Regional Science and Journal of Human Resources. He obtained his doctorate in economics from the European University Institute in Florence in 2016.