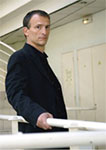 Gilbert Cette is the Director of Microeconomic and Structural Studies at the Bank of France, he's an Associate Professor of Economics at the University of Aix-Marseille, and a Member of the "Editorial Board of the International Productivity Monitor, Economy and Statistics, Futuribles".
His research topics are Macroeconomics, Growth, Productivity Analysis, Production Economics, and Labor Economics.
He received a PhD in Social Economics from the University of Paris 1 in 1989 and obtained his Habilitation to Direct Research at the University Paris 1 in 2001.
Link to his website