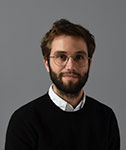 Simon Ray has been attached to the Chair since 2017 as part of a project on the geographical dimension of innovation through analysis of the mobility behavior of inventors and companies.
He holds a Ph.D. from Aix-Marseille School of Economics and a Msc. in Finance.
He is currently an economist researcher at department of microeconomic and structural studies of the Banque de France.