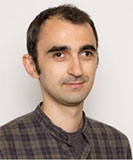 Vlad Ciornohuz has been attached to the Center since 2017 as Professor Aghion's research assistant. He is particularly interested in the link between the taxation of entrepreneurs and innovation in France.
After his schooling at ENSAI, he worked in the General Treasury Department as an economist in charge of monitoring the Japanese and Chinese economies. This work has focused on monetary and fiscal policy, the impact of population aging and competitiveness. He also worked in the Tax Studies Office where he was responsible for personal income tax monitoring.
Since September 2016, he has joined the ENSAE.